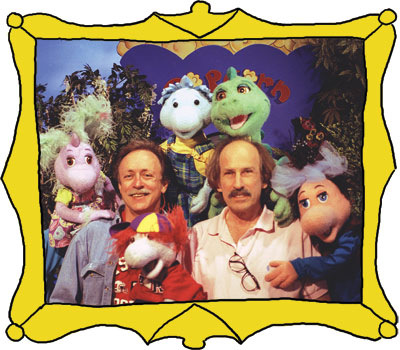 Popcorn Park creators: David H. Elkind and Freddy Sweet, Ph.D.
About This Site
We created Popcorn Park originally as two series of educational videos for kids ages 5-8. The videos are designed to help children in their social and emotional learning. These programs have been broadcast nationally on public television and on the Starfish Television Network, and have been seen by countless students in English and Spanish in classrooms all over North, Central and South America.

For Parents
The PopcornPark.com website is designed to entertain and educate your children in a variety of areas, including math, language and music.
Some of the songs from the videos are available on the website for free — others are for sale on iTunes.
We think your children will love the games and activities on this website. We would love to hear your suggestions and comments — please email us!
For Teachers
At LiveWireMedia.com you can find all kinds of Popcorn Park resources for the classroom. These materials include the videos with discussion guides, as well as banners and posters.
One of our video series, entitled "The Six Pillars of Character,"® we produced in association with Character Counts®. They are a nationally recognized leader in character education and ethics.
You may find additional information on how to order Popcorn Park classroom materials right here.